TownCraft – Gameguide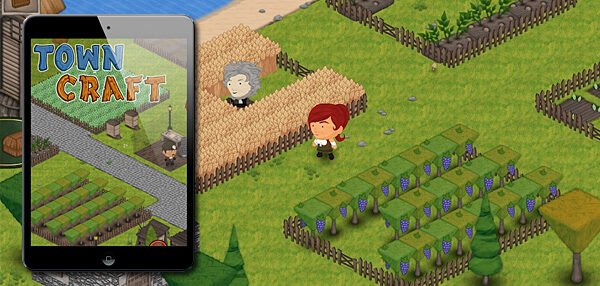 I'm not really one for playing games on portable devices, even Sony's PS Vita had minimal interest after a while, so when I comes to iPad games, I've not really played any past a couple of demos for military simulators. I am however ready to admit that certain games are ideal for a touch based tablet device, and TownCraft is certainly one of those games.
TownCraft, despite it's name is a world away from the block building shenanigans of MineCraft but very similar in look and scope of the flurry of FaceBook games available. However, unlike those FaceBook games that many of us hate with a vengeance, TownCraft is a game that you buy with what amounts to loose change these days, and never have to buy anything else. Nor do you have to invite your friends, update your status or watch advertising to get more resources. It's a self contained game.
It's different to many other crafting games in it's laid back approach. It's medieval setting has no mythical monsters trying to destroy all your work, or roaming bandits determined to pillage your village. In-fact the greatest threat you'll probably face is loosing your crops because you forgot to harvest them in time, or didn't employ someone to do it for you.
TownCraft is a crafting game that you play at your own pace. There are a couple of scenarios outside the tutorial level, but the gameplay is essentially up to you. With missions seeming not to have any time constraints. It's about exploring.
Exploring to find the best place to start building your town, exploring to find resources, and exploring to discover what can be crafted to make new items. If anything, the laid back approach was frustrating to me in that there was little to no direction in the game, everything had to be discovered, just like it would have been if we were in medieval times.
A little research and I came upon a very useful video made by Flat Earth Games that got me off on the right track, and now every time I get a short period to pick up my wife's iPad Mini, I go back and play a bit more.
It's not demanding of my time, its easy to pick up and play, the graphics are cute and visually has everything you need. In short, it's a great little game.
There are some downsides, and these may be picked up in future updates or may just be proof that I'm far to needy! The first obvious thing to me, was the inability to zoom in and out, the next as the lack of rotation so my view wasn't always blocked by buildings or trees. Other than that and the occasional little glitches, TownCraft is a great little game that will appeal to gentle gamers of all ages.
Rating: NA
GAMEGUIDE rating: