Motorstorm Arctic Edge | Gameguide Motorstorm Arctic Edge – Gameguide
0 Flares Twitter 0 Facebook 0 Google+ 0 Reddit 0 Email — Buffer 0 Pin It Share 0 Filament.io 0 Flares ×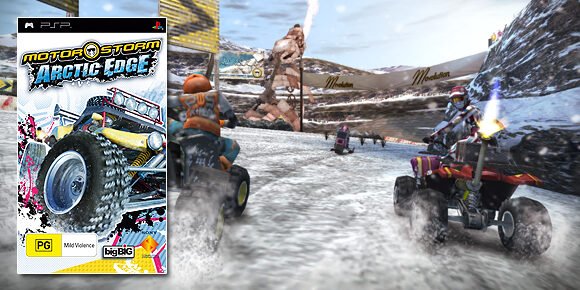 Motorstorm first broke onto the scene hand in hand with the arrival of Playstation 3. In fact for a long time it was pretty much the only game you saw being demo'ed in the gaming shops to truly show off the fun that was Playstation 3. Its wonderful blend of fast paced and mostly realistic racing with crazy fun vehicles and outlandish crashes made it a must for Friday nights with the boys! So after taking a short detour to the Pacific Rim, with its volcanic scenery and crazy hot tracks, Motorstorm heads not only to the breathtaking yet lethal and unpredictable setting of Alaska, but also onto PSP. Finally the fun goes portable and into pretty extreme snowy and icey conditions.
With the same hunger for super crashes and wired fast paced turbo boosting, I set out to explore just how comparable the action was from the Playstation 3 to the PSP. Well the mad vehicles are still there with obvious additions such as snowcat and the snow machine and of course the mudpluggers have become snowpluggers but are essentially the same gritty unbreakable kind of smash and rampage kind of vehicle. The Playstation 3 format of events and tickets and the grouping of the races has been replaced by a rotating selector that winds its way up and unleashes more and more races as you conquer the ones before. Of course with a slightly limited range of tracks you find yourself experimenting with the different vehicles a bit more in order to even out your stats across the wider variety of vehicles available. Do you chose the tough vehicles that withstand all sorts of crashes and bashes, or do you go with the lighter faster and easier to maneuver vehicles that crumble under the strain of a high powered truck as it runs over you on its way to victory. Well that's the beauty of Motorstorm on PSP, you get to chose more and more and figure out the best way to tackle each race and each track.
Another great new addition to the Motorstorm franchise is the use of playlists and the ability that you have to choose what songs you want playing and to block out the ones you really hate. My personal favourite song to race to, on Arctic Edge is "Tick Tick Boom†by the Hives. Now that's an awesome track to get you rocking the turbo boost to freedom! (Or maybe holding it down too long and Tick Tick booming your way into oblivion.)
Along with the usual single player action, Arctic Edge also boasts sweet online multiplayer or playing with friends. If you have between two and eight friends with PSPS you can all hook up and compete against each other wirelessly via Ad Hoc Mode. Alternatively, you can also compete via online multiplayer using Infrastructure Mode on PSP to make it to the summit of the online global leaderboards.
Overall a pretty safe and family friendly game although the crashes on the bikes, ATV's and Snowbikes are a little gruesome as the riders body goes flying of and hits the walls etc… SO you might want to stick to just the cars and trucks with kids under 10 watching on. The one flow on draw back to Motorstorm is now whenever I race in Gran Turismo I keep pulling handbrakes when I try to use Turbo boost and find that theres no Turbo boost on Gran Turismo, just a mean as handbrake, but then again both can get you into a lot of trouble when you're heading for the finish line…
Reviewed on: PSP
Available on: PSP, PS2
Reviewed by:
Jon E Clist
0 Flares Twitter 0 Facebook 0 Google+ 0 Reddit 0 Email — Buffer 0 Pin It Share 0 Filament.io 0 Flares ×