Xbox One to race Bathurst 1000 | Gameguide Xbox One to race Bathurst 1000 – Gameguide
0 Flares Twitter 0 Facebook 0 Google+ 0 Reddit 0 Email — Buffer 0 Pin It Share 0 Filament.io 0 Flares ×
Xbox has today announced the launch of the Xbox One Racing Team, in partnership with Triple Eight Race Engineering, in the 2013 Supercheap Auto Bathurst 1000.
To celebrate, Xbox and Turn 10 Studios, the makers of the Forza Motorsport series, have also announced the Bathurst track, Mount Panorama, will be included in the highly-anticipated racing game, "Forza Motorsport 5" set to launch exclusively with the new Xbox One console in November 2013.
With international champion race car drivers, Andy Priaulx and Mattias Ekström behind the wheel, the Xbox One Racing Team will be boosted by the support of long time Xbox ambassador and Team mentor, Mark Skaife and Triple Eight Race Engineering Team Owner, Roland Dane.
Alan Bowman, Regional Vice President, Microsoft, Greater Asia Region said, "Xbox has had a strong association with the sport of V8 Supercars over the last decade and for years Australians have been asking us to include the Bathurst track into the Forza Motorsport games. We have taken notice and to celebrate the inclusion of the Bathurst track and two V8 supercars in 'Forza Motorsport 5', we will launch a truly international and competitive racing team."
"This is unprecedented. After months of working in secret to create a piece of racing and gaming history, we are excited to finally reveal that the wildcard entrant and 29th car making its mark at Mount Panorama this year will be the stunning Xbox One Car," concluded Alan.
The Xbox One Racing car is the latest Holden VF Commodore and comes equipped with a 5.0 litre naturally aspirated V8 Holden which has an estimated output of 640bhp and a top speed of almost 300kph.
Six-Time Bathurst Champion, Mark Skaife said, "This is a milestone not only in racing, but gaming history and I'm proud to continue working with Xbox as we turn Kiwi gamers' dreams into a reality."
"The Bathurst 1000 is watched in 137 countries around the world and now, with the inclusion of the famous Bathurst track at Mount Panorama in Forza Motorsport 5, its place in the global racing circuit will be cemented in one of the highest rated racing game franchise in history," said Mark. 
Triple Eight Race Engineering Team Owner, Roland Dane said, "There is no surprise that we love a challenge. When we heard this unique proposition from Xbox to turn everyone's most-loved racing game into a reality on-track, we knew it was too good an opportunity to pass on.
"Andy and Mattias are two of the best Touring Car racing drivers in the world today and I can promise Bathurst and V8 fans that this will be one team to watch come race day in October," concluded Roland.
Developed by Turn 10 Studios, "Forza Motorsport 5" is a cinematic automotive journey designed exclusively for the Xbox One. Innovation is at the heart of "Forza Motorsport 5" with ground-breaking features that are only possible on Xbox One, including a worldwide network of always-evolving "Drivatar" opponents powered by the cloud and a new graphics engine that delivers stunningly realistic visuals. Built from the ground up to take advantage of Xbox One and starring the world's greatest cars and tracks, no game better delivers the wide-eyed thrill of racing.
Dan Greenawalt, Creative Director at Turn 10 Studios said, "Few circuits have been requested more by the worldwide Forza fan base than Bathurst, and for good reason. It holds a special place in motorsports history as one of the most demanding and challenging circuits in the world. In addition, the timing couldn't be better to finally bring Bathurst to the Forza series; with Forza Motorsport 5, we're able to bring the circuit to life in a way that nobody else can.
"Through the use of cutting-edge technology like laser-scanning and our new materials-based graphics engine, we can now precisely reproduce the characteristics of every corner, straight and detail to sub-centimetre accuracy; from the narrow twists and turns of the Esses, to the thrilling rollercoaster sprint down the Conrod Straight. This is the Bathurst that racing fans have been asking for years and we're proud to bring it to them in 'Forza Motorsport 5.'"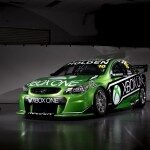 0 Flares Twitter 0 Facebook 0 Google+ 0 Reddit 0 Email — Buffer 0 Pin It Share 0 Filament.io 0 Flares ×