Razer Reveals Gaming Tablet Design | Gameguide Razer Reveals Gaming Tablet Design – Gameguide
0 Flares Twitter 0 Facebook 0 Google+ 0 Reddit 0 Email — Buffer 0 Filament.io 0 Flares ×
For all intense purposes this device is not for the faint hearted, nor is it for those who wish to fling birds, grow crops or use plants to beat down zombies. This is the kind of device your serious world of warcraft-ers or battlefield-ers would take away on a beach holiday with the family.
While still a concept/prototype it promises some very interesting gaming competition in the mobile gaming space. With the iPad and Sony Portables taking up a fair amount of that space, a full PC enabled tablet could potentially shift people back to PC based gaming in a different context – Mobility. There is little on release dates or pricing, so for now we just live with the possibility that this thing is out there.
Its a PC – The Tech Specs
The device is actually a fully blown PC, capabale of loading Windows 7 and Linux based operating systems.
Included in its base specs :
Intel® Core™ i7
10.1″ 1280×800 display
Full-screen user interface supporting multi-touch
3-axis gyro, magnetometer, accelerometer
Force feedback
Dolby® 7.1 surround sound
WiFi 802.11b/g/n
Bluetooth® 3.0
All seem to be fairly generic specs at this stage, however it is still a prototype. Now word on how this baby will cool, as intel chips still require alot of cooling and gaming is certainly going to set fire your your lap if your not careful.
[iframe width="560″ height="315″ src="http://www.youtube.com/embed/–aGuXYo1rs" frameborder="0″ allowfullscreen]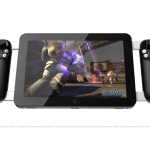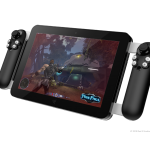 0 Flares Twitter 0 Facebook 0 Google+ 0 Reddit 0 Email — Buffer 0 Filament.io 0 Flares ×