Injustice: Gods Among Us | Gameguide Injustice: Gods Among Us – Gameguide
0 Flares Twitter 0 Facebook 0 Google+ 0 Reddit 0 Email — Buffer 0 Pin It Share 0 Filament.io 0 Flares ×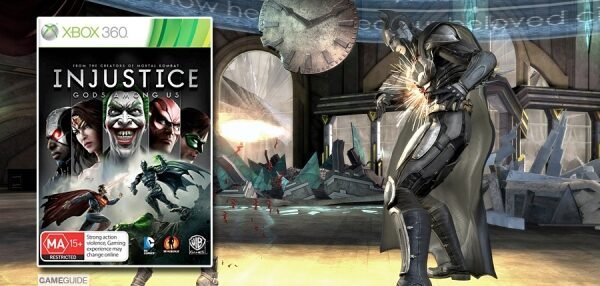 I really didn't do my research before putting my hand up for Injustice: Gods Among Us.  I figured it would be some cool superhero action adventure.  I was wrong.  It's essentially Mortal Kombat with the heroes and villains from the DC Universe.  Not that that's a bad premise for a fighting game, if you like fighting games.  Which I don't.
There is a story mode and multiplayer modes, but they all essentially boil down to the same thing: kick the shit out of your opponent before they destroy you.  Each character has there own moves and defenses and it's the nature of the story mode that a button masher like myself can get along quite nicely if I persist.
The storyline has something to do with Superman going off his rocker and creating a parallel universe where he is running a dictatorship against who he sees as the bad guys, and everyone is forced to chose one side or the other.   If you're into that sort of thing, good on ya.  I was more of the skip to the fighting please.
And the fighting is where the game's strength is.
If you enjoyed NetherRealm's Mortal Kombat a few years back, then you'll love Injustice.  You'll love it even more if you're deep into the geekery of the DC Universe.  If you're a casual gamer you may find it all to be a bit too much.
But based on the style of game it sets out to be and the genre it sits slap bang in the middle of, I have to say that Injustice does a great job.
0 Flares Twitter 0 Facebook 0 Google+ 0 Reddit 0 Email — Buffer 0 Pin It Share 0 Filament.io 0 Flares ×